Hypervisor technology enables multiple solutions / operating systems to be operated off a single SoC, presenting an opportunity to rationalise complex in-car hardware and software systems and ultimately improve security and ease of management.
As used by the military, Hypervisor offers the best opportunity to meet the growing security and performance demands of leaders in the connected car industry and their discerning customers. At Perseus, we are committed to delivering on its potential.
Perseus has developed a suite of proprietary, secure container that reduces the complexity of in-car hardware and software infrastructure by 75% on average.

Connected cars feature up to 120 independent connected in-car solutions, many of which have unproven security and are developed by different suppliers. These complexities make overall system security extremely difficult.
In 2015 white-hat hackers disabled a Jeep Cherokee while it was being driven. The same hackers revealed additional security issues just a year later. While there was no loss of life, the cost to Chrysler was a recall of 1.4 million vehicles.
Without a sure solution, the connected car industry will become the next battleground for malicious hackers, with potentially deadly results.
Our secure container reduces reduce the cost and complexity of in-car technology implementation at the manufacturing stage and simplify the management and maintenance of connected in-car services.
An additional and perhaps even more compelling benefit is the ability to guaranteeing industry-leading security of in-car connected services while maximising performance.
First utilized in the banking industry as far back as the 1970s Hypervisor was still highly complex when Perseus co-founders began innovating within the space in 2008.
By 2011 Perseus CEO, Dr. Suh's pioneering work and leadership of the open source community had resulted in major breakthroughs in Hypervisor development that enabled significant steps towards commercialization of the technology, as demonstrated in the diagram below.
Founded in 2016, Perseus is dedicated to the further development of Hypervisor technology for the connected car industry that has among the highest demand for visualization solutions and for security – Hypervisor presents the best opportunity to achieve both goals.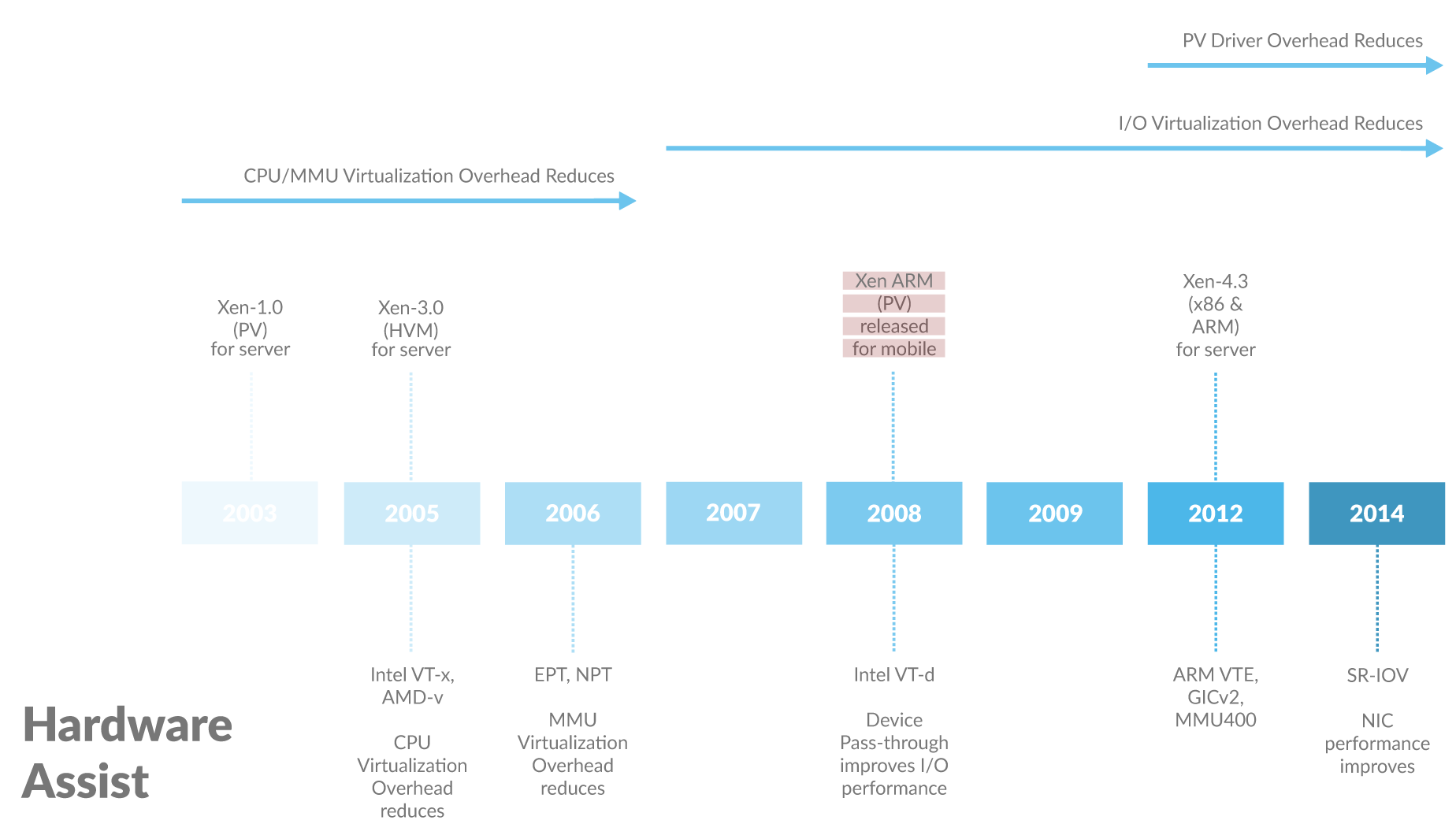 HISTORY OF XEN ARM HYPERVISOR

Once in-car connected systems have been simplified with a Hypervisor, implementing a robust security solution becomes much more feasible.
Secure container enables multiple secure containers to run off a single SoC. Each secure container delivers a similar level of security to the Trust Zone that is featured in ARM hardware.
Perseus secure container enables real-time control of each application / operating system. Parameters can be pre-programed, controlled algorithmically, or managed in real-time to prevent security threats from materialising.
This level of real-time, flexible control is unique in the industry.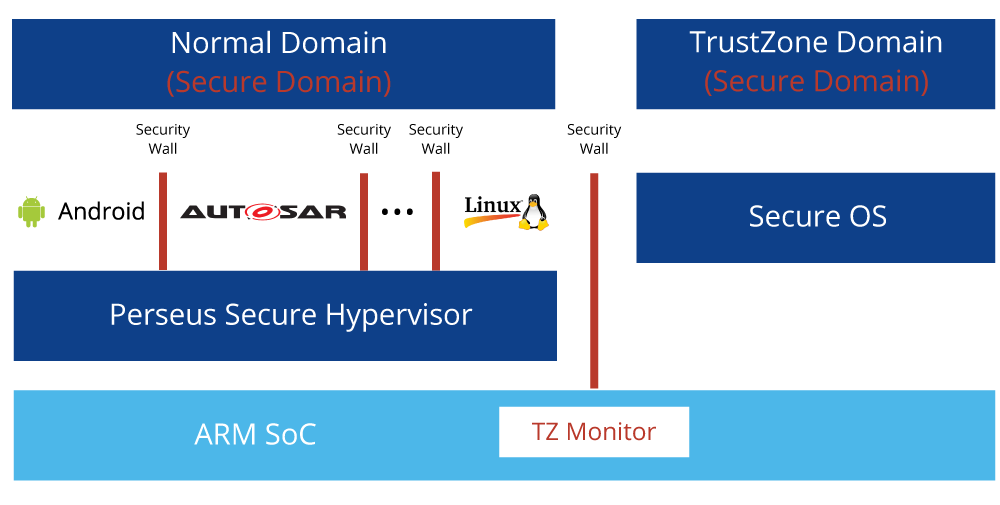 OUR secure container TECHNOLOGY SOLUTIONS
1. Security Enhancement on Xen ARM, History of Hypervisor
Sang-bum Suh
18th GENIVI AMM Presentations, Hilton Munich Park Hotel, Germany, Apr-19-2018
2. Xen for Android
Sang-bum Suh
SICS Workshop on Virtualization and Verification for Security, Kista, Sweden, Apr-12-2012
3. Keynote Speech: Xen ARM Virtualization
Sang-bum Suh
Xen Summit Asia 2011, Seoul, Korea, Nov-2-2011
4. ARM Architecture-based System Virtualization: Xen ARM Open Source Software project
Sang-bum Suh, Jae-min Ryu
Xen Summit North America 2011, Santa Clara, CA, Aug-2-2011
5. Fine-grained I/O Access Control Based on Xen Virtualization for 3G/4G Mobile Devices,
Sung-min Lee, Sang-bum-Suh, Jong-deok Choi
DAC `10 Proceedings of the 47th Design Automation Conference, Anaheim, California, Jun-13-2010
6. Xen ARM Update: Status and Latency Analysis
Sang-bum Suh, Jea-min Ryu
Xen Summit North America 2010 at AMD, Sunnyvale, CA, Apr-29-2010
7. Xen ARM Update
Sang-bum Suh
Xen Summit Asia 2009, Shanghai, China, Nov-20-2009
8. Fine-grained I/O Access Control of the Mobile Devices Based on the Xen Architecture
Sung-min Lee, Sang-bum-Suh, Jong-deok Choi
DAC `10 Proceedings of the 47th Design Automation Conference, Anaheim, California, Jun-13-2010
9. Secure Xen on ARM: Source Code Release and Update
Sang-bum Suh
Xen Summit North America at USENIX 2008, Boston, MA, Jun-24-2008
10. Xen on ARM: System Virtualization using Xen Hypervisor for ARM-based Secure Mobile Phones
Joo-young Hwang, Sang-bum-Suh, Sung-kwan Heo, Chan-Ju Park, Jae-min Ryu, Seong-yeol Park, Chul-ryun Kim
2008 5th IEEE Consumer Communications and Networking Conference, 2008
11. Secure Xen on ARM: Status and Driver Domain Separation
Sang-bum Suh
Xen Summit Autumn 2007, Yorktown, NY, Nov-15-2007
12. Secure Architecture and Implementation of Xen on ARM for Mobile Devices
Sang-bum Suh
Xen Summit Spring 2007, Apr-17-2007
We've worked with top automotive brands