The U.S. government has already introduced regulations that mandate critical in-car devices, like rear-facing safety cameras, boot within two seconds. The main problem is that Linux powered in-car devices, such as rear-facing safety cameras, suffer from painfully slow boot up speeds in excess of 15 seconds. This not only presents concerns around the performance of in-car systems, like HuDs and entertainment consoles. It can also be a serious safety issue – if rear-facing safety cameras don't boot quickly enough, there's a danger drivers could hit objects or people before the in-car display loads. It also means that devices may fall short of tightening regulatory requirements around key safety features.
While RTOS (real time OS) is a solution that offers near real-time boot up, it is not compatible with Linux and requires specialist engineering resources – in other words, it is not a viable / sustainable solution. Thus, optimization of Linux is the most efficient means of improving device performance in the automotive industry.
Linux has become the default operating system for in-car devices. Demonstrating this, 30% of vehicles already carry at least one Linux-powered rear-facing safety camera. By 2021, that figure will have increased to around 40%. Autonomous vehicles will account for a ten-fold increase in the demand for Linux-powered cameras.
How It Works: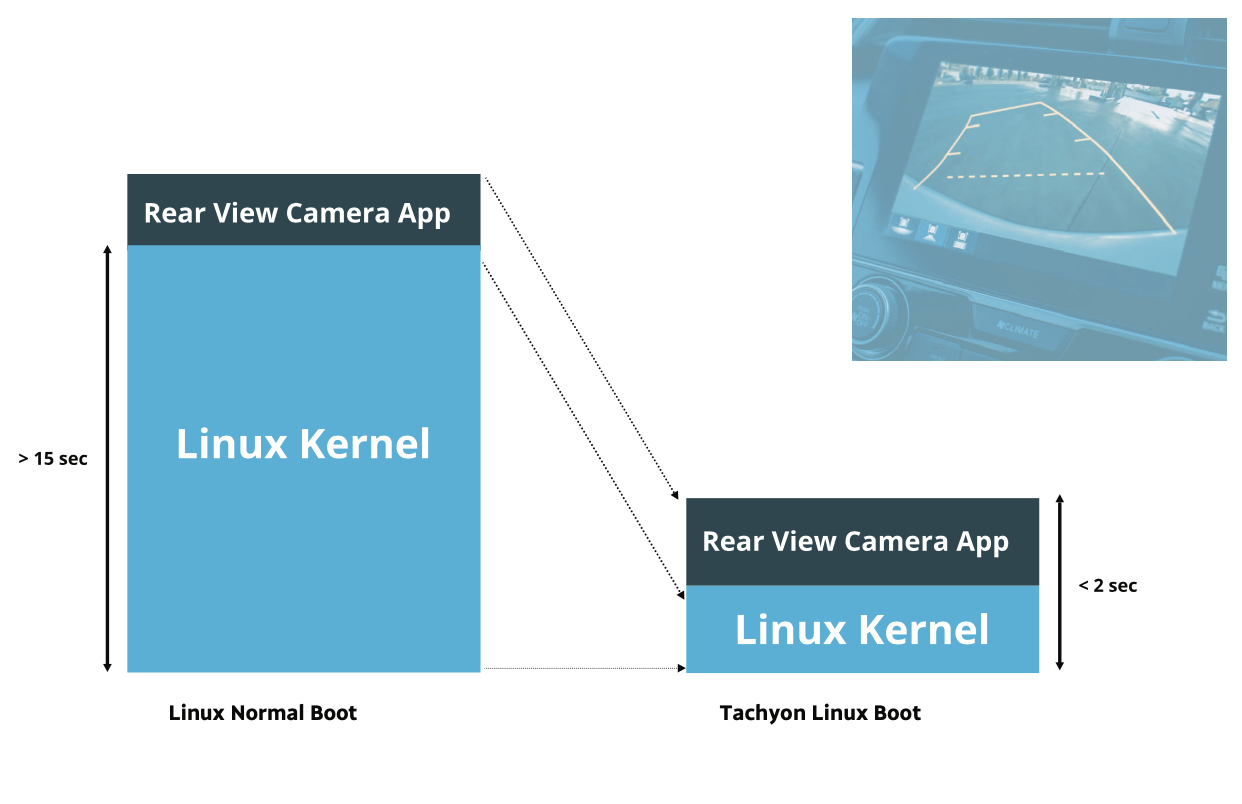 Tachyon eliminates all non-essential boot processes, streamlining boot up and reducing time to full device operation. Tachyon is fully compatible with Linux OS, ensuring efficient and cost effective optimisation for any Linux-powered device. It also means that existing programming resources can be utilised to implement Perseus Linux Fast Boot, rather than needing to hire specialist resources for RTOS (real time OS) programming. Thus, our proprietary solution dramatically improves performance and enhances safety.
In order to establish a market leading position we are keen to speak with T1 & T2 suppliers, car OEMs and investors about partnership and investment. Fresh funds will be used to strengthen our core developer team and scale our international marketing activities, including further PoCs with top industry brands.
Update on Our Product Development
We are delighted to share a milestone in our product development. As of this week we have finalised an updated version of our Linux Fast Boot solution (Tachyon). We have been able to further reduce boot time using an entry-level ARM SoC to less than 1.32 seconds. This technology will reduce boot time of AGL and Android as well. Check out our 1-minute video that showcases this achievement.
In Sum:
Reduces boot speed for Linux-powered devices from around 15 seconds to less than 1.5 seconds

Ensures compliance with new regulations for rear view safety cameras

Improves performance of in-car devices and solutions, such as HUD, telematics and infotainment systems

Full compatibility with Linux operating system ensures optimal performance enhancement with existing engineering resources and minimal disruption for existing partners